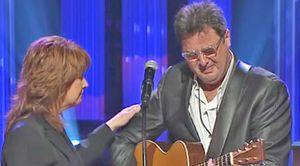 The author Malcolm Gladwell gave me a renewed respect for traditional Country songwriting.  
You may have heard of the popular author Malcolm Gladwell.  He's written 5 NY Times Best Sellers including Outliers, The Tipping Point and Blink, all of which I have read and enjoyed.  
Well, I recently found myself re-listening to a fascinating podcast he did back in 2017 called the "King of Tears".  He starts by posing the question, "what is the saddest genre of music?" 
 He goes down the list of top rock songs and the subject matter is about the obligatory sex, drugs, rock and roll, lost love, etc.  Then he goes through the top country songs, which are about hardship, hard living, poverty, divorce, death.  
As a point of comparison, he points out "Wild Horses" from the Stones.  A potential tear jerker for sure.  But then he compares it to what he calls, "maybe the greatest country song of all time. Certainly, the saddest country song of all time."  George Jones' "He Stopped Loving Her Today" was Malcolm's inspiration to take a plane to Nashville to interview the songwriter, the "King of Tears", Bobby Braddock. 
The song about lost love begins with, "He said I'll love you till I die."  It goes on with how the years passed by and he kept her picture on his wall hoping she'd come back.  The verses go on with "Kept some letters by his bed dated nineteen sixty-two.  He had underlined in red every single I love you."  Wow. From that line alone you get a real visceral image in your mind of how this guy pines for his lost love.  You are drawn in and invested in his pain.  Then a later verse goes on to talk about how his friend came to see him.  He's all dressed up "I didn't see no tears", "first time I'd seen him smile in years".  Maybe some hope for a happy ending?  Well, then the Chorus comes in with, "He stopped loving her today…".  And now you're thinking what's going on in this story?  Why did he stop loving her??  Then it becomes all too clear when the chorus goes on with "And soon they'll carry him away, He stopped loving her today."  Damn, that hits hard.  You realize this is his funeral, and he really did love her till his dying day.  Wow.  I know I'm a sensitive artist but I have trouble listening to this song without getting a little teary.  This is how you write a sad song.  It's a song about lost love and death and he pulls no punches so you feel it.  
Malcolm points out the difference.  It is "specificity".  There is no ambiguity like there is in Wild Horses or most rock ballads.  It's a real story about a real situation about a real person. 
Malcolm concludes, "We cry when melancholy collides with specificity. And specificity is not something every genre does well."  He again references "Wild Horses", certainly a sad tune but somewhat ambiguous.  Whereas most country songs have specific images and real world situations of real people.  They are rarely ambiguous, metaphorical or conceptual like rock often is.  Not that one is better than the other.  There is an artistic creativity in conceptual and metaphorical that you don't get in country.   But, if you want to make a song that makes people cry, specificity does it better.  It makes you connect with a real person in a real situation in a way that doesn't protect one's vulnerability with ambiguities. 
Malcolm then points out some very interesting facts about the culture and sociology of these different genres that may explain these differences.  The demographics that the top country songs come out of is very short and homogeneous.  You could go over the top 100 country tunes and find the vast majority come from the same few states.  Texas, Kentucky, Alabama, Tennessee, Arkansas.. come up over and over.  He finds that it's "White, Southern Protestants all the way down." 
By comparison the demographics of rock and pop artists is all over the map with all cultures, backgrounds and origins.  He notes that rock and pop tunes are more repetitive as well.  He makes the conclusion that since the genre is so diverse, "Nobody speaks the same language so you have to use cliché… because if you go deeper or try to get more specific, you start to lose people." 
He notes that "Hip Hop and Country are both tightly knit musical communities and when you're speaking to people who understand your world and your culture and your language, you can tell much more complicated stories, you can use much more precise imagery, you can lay yourself bare because you're among your own." 
I know I've never thought about it like that but it's a pretty astute and deep sociological and musical observation.  Something to think about. 
Now Braddock's favorite song is Vince Gill's Go Rest High on That Mountain, which Gill wrote in memory both of his brother, who died young of a heart attack, and fellow country star Keith Whitley, who drank himself to death.  Braddock says, "it's about death and Vince wrote it about Keith Whitley and then about his own brother and just the emotion that's in that song, it's just, it's just powerful." 
Gladwell points out that Braddock is from "the side of the United States, where emotion is not something to be endured; it's something to be embraced."  Gladwell feels that "we cry, because the song manages to find beauty and even a little bit of grandeur in someone's frailty." 
Now when George Jones died in 2013 his memorial "service" was basically an almost 3 hour musical tribute at the Grand Ole Opry with the who's who of country legends.  One performance that really gets to your heart is when Vince Gill and Patty Loveless sing Go Rest High on That Mountain and Vince breaks down half way through with Jones' wife and children bawling away in the front row.  If watching this doesn't get to you, you are made of stone my friend.  
 And remember, we started talking about Jones' song "He Stopped Loving Her Today".  Well Alan Jackson sang the song at his Funeral Opry which obviously hit very close to home on that day.  But that gets to the point.  In country they embrace their frailty, vulnerability and hardship.  To understand where that comes from culturally is a whole other sociological study for another day.  But it is definitely something to think about musically and culturally.  
This perspective is definitely going to change how I approach songwriting.  It makes me think of a line in one of my songs "In Love With You".  I always liked the way it starts with "The first time I saw that ring on your finger, did you know I broke down and I cried" Pretty specific image.  Now I have a better understanding of why that line always felt more personal and vulnerable than more ambiguous verses I've written and I think just a little more emotionally powerful as a result.  Malcolm's insight really made me think about these things in listening to and writing songs.  And as far as I know he's not even a musician.  
So that's how a sociology author made me realize I have a lot more to learn than I ever realized from these old school traditional country songwriters.  Now I highly recommend you go and listen to Malcolm's podcast and even more importantly the Vince Gill and Alan Jackson performances linked below.  I was never a "country guy" but it's not about that.  Music is about connecting to our universal humanity and there's no doubt these songs do just that as well as any I've heard.  What do you think? 
Vince Gill and Patty Loveless sing Go Rest High on That Mountain  
Alan Jackson sings the "He Stopped Loving Her Today" at George Jones' Funeral Opry