About Us
Dave takes Funk/Rock inspiration from the likes of RHCP, Lenny Kravitz, P-Funk and Prince gives it his own twist by adding in flavors of sophisticated jazz and bouncy reggae then tops it all off with face melting guitar the likes of Santana, Hendrix, and Zeppelin!
Dave's tunes owe their funky vibe to the monster groove of P-FUNK All Stars alumni Donna "Ladybass".  The sing along melodies are sweetened by the haunting and powerful vocal arrangements of Scissor Sisters alumni Bridget Barkan.  This combined with Dave's emotional voice and searing guitar make for tunes that jump out of the speakers and energize you with their infections groove.
Press:
MUSIC CONNECTION MAGAZINE –  Aug 2021 – "BLAIR IS LITERALLY A VERY HIP AND ASTUTE MUSICAL LIBRARIAN AND HE BRINGS THE VAST UNDERSTANDING OF STYLES, TONES AND MOODS TO THE PLETHORA OF MUSIC ON DISPLAY."  "FROM FUNKY SYNCOPATION TO JAZZY BLUES AND METALLIC-TINGED RIFFS, THE MAN KNOWS HIS WAY AROUND AN AXE."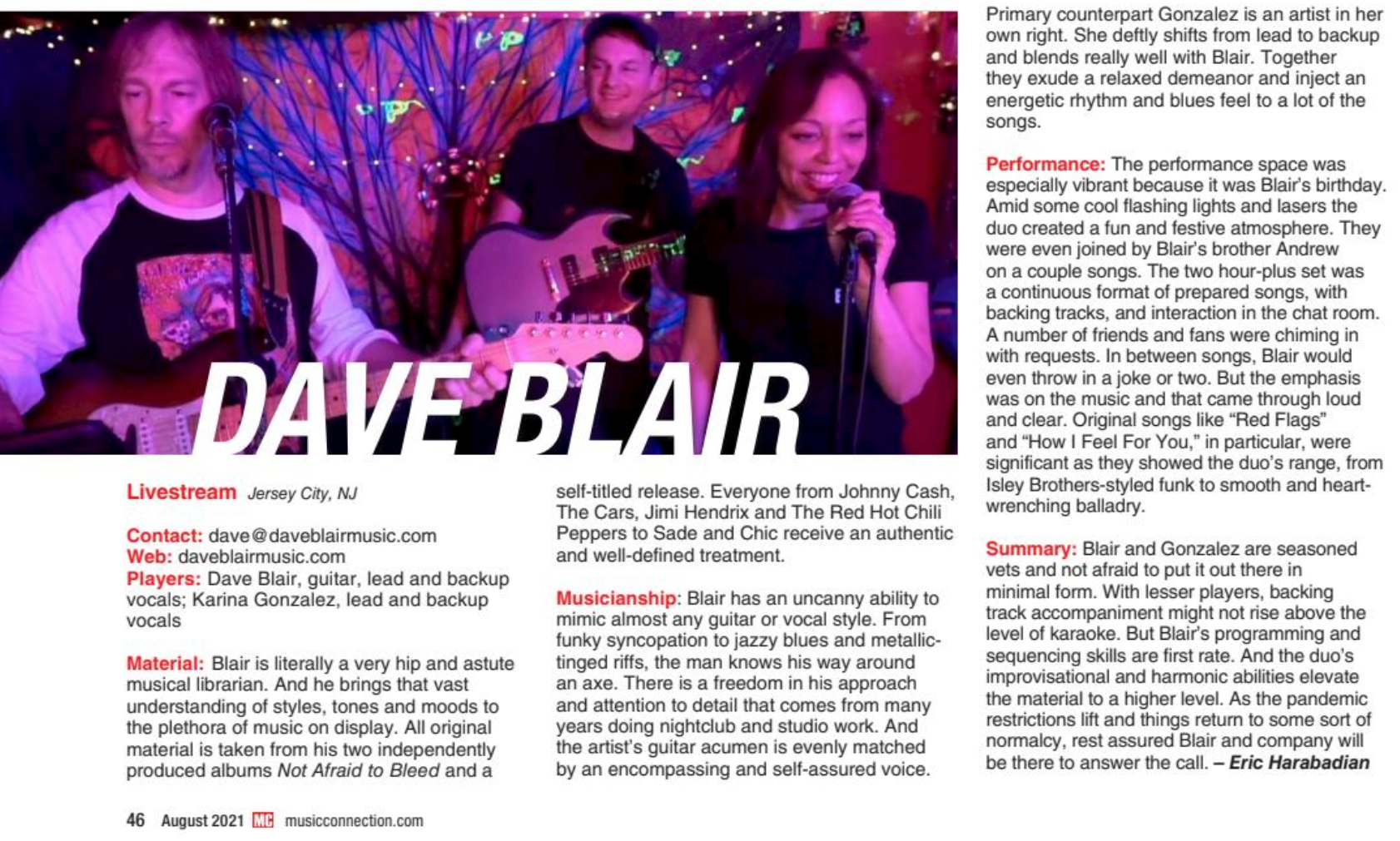 MAVERICK MAGAZINE – "…ELECTRIC GUITAR THREATENING TO TAKE OFF INTO THE STRATOSPHERE…  NOT JUST A TALENTED SINGER, NOR FIRST-CLASS SONGWRITER OR EVEN DYNAMIC GUITARIST, BUT AN EXCITING AND ORIGINAL PERFORMER…"

JAMSPHERE – "…NOSTALGICALLY ORIGINAL, REMINISCENT OF DAYS OF OLD, BUT WITH THE DECIDEDLY NEW FLAVOR OF TODAY. …HE BRINGS THE FUNK, THE SOUL, THE ROCK, POP AND BLUES AS WELL. THE LYRICS ARE DEEP AND IT'S JUST A VERY FULL SOUNDING, WELL ROUNDED…"