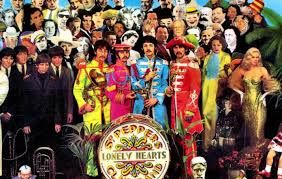 In the Steve Jobs biography by Walter Isaacson, Steve discusses how a bootleg recording of the Beatles' "Strawberry Fields Forever" sessions helped him shape his business philosophy. 
Steve notes how the song became more complex and more perfect with each rewrite. He attributes this as an influence on the way in which Apple products are designed. They would have many iterations of a new computer or iPod, each with more improvements and refinements. This would be an exceptional amount of work but the best design strategy for creating a truly exceptional product even they would be impressed with. 
For all songwriters, it's key to realize that great songs are not just written, but more often than not, to become great they are re-written and re-written. Just like any great Apple product, they would start with a special concept but then they would keep fine-tuning and chipping away the unnecessary and adjusting anything that wasn't quite elegant in the design. It is the same in song writing. I've written whole songs in 15 minutes 95% complete, but that last 5%, a melody tweak here, a change of phrasing, or cutting out a superfluous verse often are the difference between a good song and a great song. And we all know merely good songs are a dime a dozen, forgettable, and leave little impact on the listener. Great songs are truly magical and special. If you are not writing great songs what reason do people have to listen to you? The fact that the song meant a lot to you doesn't do anything for the listener. You need to write it in a way that makes the listener feel why those words mean so much to you. And that is the most elusive but also most essential as well as magical aspect of the craft. That is the whole point. 
The goal is not to "over analyze" but to listen and find anything that takes away from the flow of the mood and story and either get rid of it or fix it. Often taking a weak part out can do wonders to strengthen the entire song. I've had times when I felt something was really good but somehow something lost the flow towards the end of the chorus. After trying multiple versions I would then just cut out the whole section and viola, everything would come together, and the chorus would have more impact. Even if you absolutely love a part, if it doesn't serve the song, kill it. Hey you can always use it in another tune. There are examples of just this scenario in Beatles demos where they would have a melody section that sounded not quite right in an early demo and consequently was cut from the final version, but then would be heard as a perfect signature melody in a Lennon tune years later. The Beatles, Beethoven, Jobs, and most great artists are known for doing many re-writes and much fine tuning before their "masterpieces" actually were worthy of that description. So not every song you write is a great song, but any song can be a great re-write in the right hands. As Job's noticed in the Strawberry Fields demos they just would keep making it better and better. Where most bands would have stopped and said hey, cool tune, they kept making it better to the point where the version we all know and love has become an indelible part of our culture and sounds so perfect, we can't imagine it any other way. But it took many re-writes to actually get to that level of perfection. 
Listen to the demo that Jobs refers to for a great example of an evolution of a song. Where most bands would have stopped, they kept working at it to make it better and better. This one technique was essential to the stratospheric success of the Beatles. Do you think it would help your musical success to avail yourself of the same strategy?
Check out the Beatles demos of Strawberry fields here...  
https://www.youtube.com/watch?v=9Zwe1C1G2ak&list=RD9Zwe1C1G2ak&start_radio=1
https://www.youtube.com/watch?v=y5g_DiZF5NI
https://youtu.be/BlVrnZFi5ZM