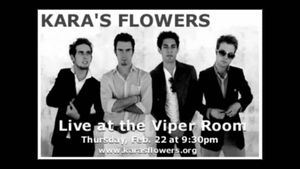 The original incarnation of the band we know today as Maroon 5 was originally a band with a very different sound and name. Kara's Flowers was formed by 4 of the 5 original members of Maroon 5 in LA in 1995 while the members were high school classmates. Although they were a good band with some catchy songs and potential, at this point they had yet to define the signature funky pop sound Maroon 5 became famous for. 
These original members were Adam Levine (vocals, guitar), Jesse Carmichael (guitar), Mickey Madden (bass), and Ryan Dusick (drums). In 1995 they had a similar sound to other 90s alternative punk pop bands of the 90s such as Weezer, Greenday or The Foo Fighters. 
In 1995 they recorded and self released a low budget record "We Like Digging?" About 500 CDs were sold around Brentwood School and Hollywood clubs. In 1997 they were signed to Reprise Records and released one album called "The Forth World" with Greenday producer Rob Cavallo. 
One common stylistic theme of many Kara's Flowers songs was a mellower picked or strummed verse that comes into the chorus with crashing drums and big distorted guitars then back again. This is a common stylistic choice for many 90s bands including Weezer, Radio Head, and Smashing Pumpkins. The band also incorporated other musical elements you would not expect on a Maroon 5 record. On "My Ocean Blue" you can even hear a Brian Setzer style guitar solo. After this album failed to have popular success Reprise Records cut them loose from the label. 
After getting released from the label Levine and Carmichael attended State University of New York. During this period they became much more influenced by soul and R&B artists. This new influence was a major turning point that led to the infectious Maroon 5 pop hit sound they became famous for. 
When they returned in 2001 home Carmichael focused more on keyboard as his main instrument and the group added James Valentine as a second guitarist. 
Maroon 5 have specifically cited Michael Jackson, The Police, Talking Heads, Aaliyah, Shabba Ranks, and Prince as some of their influences. The fact that the majority of these artists all have a strong funk R&B and rhythmic based style played an obvious role in the new band's sound. You can hear a significant change in Adam's vocal style from the 90s alternative style to a more R&B pop style the likes of Stevie Wonder or Michael Jackson. 
On the first Maroon 5 record "Son's About Jane", the drums and bass have a much more funk rock groove. The rhythm guitars are often clean and not as often picked or strummed openly but instead have more of a Niles Rogers funk disco style from the 70s. Even the distorted rock style guitar parts such as the ones on "Harder To Breath" have a funky vibe you could likely hear in a Lenny Kravitz tune. This is a significant musical departure from Kara's Flowers' punkish alternative pop rock sound. 
An ideal match for this funkier new sound, Adams vocals have become much more rhythmic and almost rap like in their cadence. You can hear an obvious influence of artists like Stevie Wonder in songs such as the piano centric "Sunday Morning". On songs like "Shiver" he begins using a Justin Timberlake style falsetto for the first time. He utilizes his falsetto voice in many other songs on the record most notably on the catchy hit chorus of "She Will Be Loved". 
As a singer songwriter myself I can very much relate to the reinvention of one's sound. I can especially relate to Maroon 5's artistic journey. When I was a young player I was a hard rocker and my musical influences were bands like Zeppelin, Van Halen, and Pink Floyd. Later I began appreciating the power of a great funk groove and a more soulful rhythmic vocal. I began being more influenced by artists such as the Temptations, George Clinton, James Brown, Tower of Power, Rick James, and Donny Hathaway. I also began playing with some "old school" funk and R&B players that brought out a new funky sensibility in my playing, singing, and writing. This enabled me to add new elements to my hard rocking side that I think made both more effective and distinctively original. People can bop their head to a great groove but can also feel the aggressiveness and attitude of rock and once in a while a killer screaming guitar solo. 
At some point maybe some rock journalist will be making the comparison from Dave's earlier classic rock styled CD to his later Red Hot Chili Peppers more eclectic funk and soul influenced tunes. Or maybe my artistic changes will just continue to who knows where? For all artists it's a journey and very exciting to constantly incorporate new aspects to expand and redefine our musical identity. 
Maroon 5 is a great example of this. 10 years (to the day) after the formation of Kara's Flowers, Maroon 5's "Song's About Jane" went Platinum.
Kara's Flowers video
https://www.youtube.com/watch?v=DefUa6gd5Qg